Winter Whites for the Win
January 21, 2020
White is a tricky color, no matter the season. Some white articles of clothing are made cheaply, creating a see-through effect. Sadly, the color itself doesn't do much for camouflage. However, in the depths of winter, when an all black look is at the top of the list, a bright color goes a long way to bring a little sunshine into your wardrobe. Here are some tips to making Winter Whites a Win:
THICKNESS: Pair white pants with a thick cozy sweater! Unconsciously, white clothing, even if heavy, can give an airy effect in your brain. So, you want to make sure you battle the chill! Personally, I love this one from Forever 21 (similar here). This turtleneck keeps out the cold with thick material and has a loose fit for comfort.
2) TAILORED PIECES: Don't waist your time on pants that are too tight or so thin you can see more of your butt than the pant. Face it, we have all seen this! Finding a well-tailored pant with a good lining is key! These Forever 21 high-waisted slacks elongate the legs and are a great price!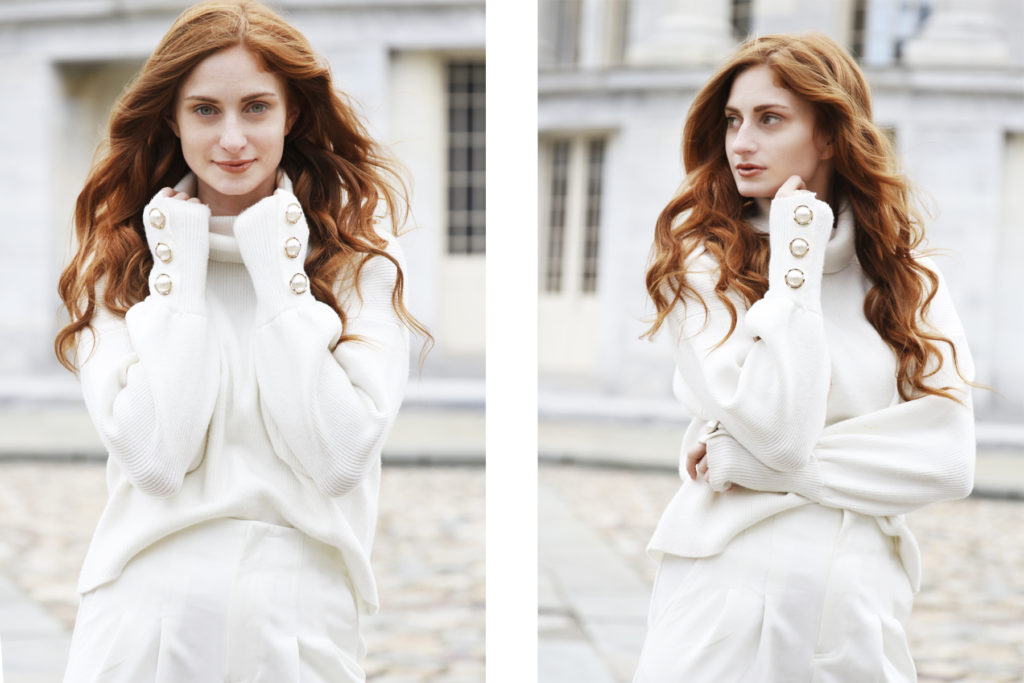 3) PAIR WITH LIKE COLORS: To captivate those who pass you by, try a head to toe white look! It's sure to catch eyes in a sea of dark winter wardrobes. To complete this all white look, I paired it with these Forever 21 White Boots. For a more multi-dimentional look, you can pair white pieces with other cream and tan colors to ensure a similar effect!
4) MAKE YOUR RED HAIR POP: Redheads: winter whites are perfect for making those fiery tendrils pop! Luckily, we have the benefit of allowing our hair to be the best complimenting accessory! You can also match your hair to other accessories, such as bracelets, or belts!
So, when you're in need of a pick-me-up throughout the cold months, try wearing Winter Whites to lighten your mood and boost your confidence!